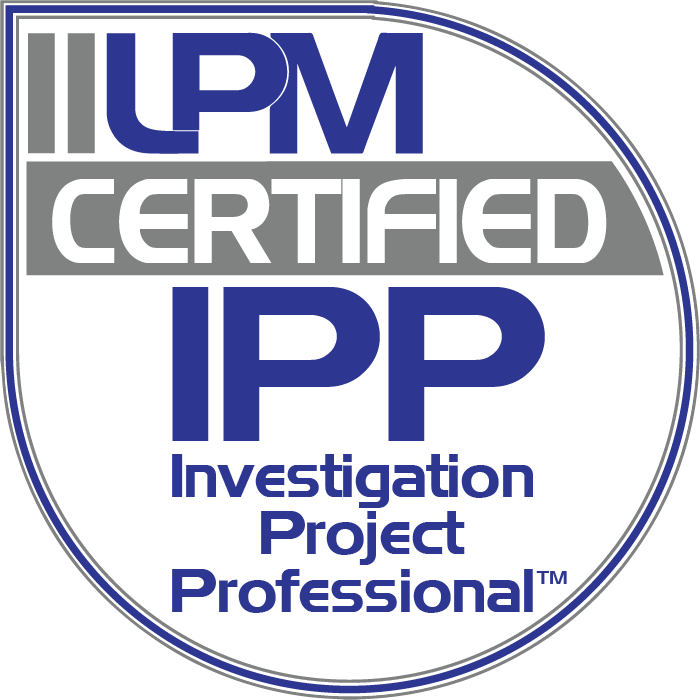 Investigations are deemed to be a specialist area of legal project management.  They also produce evidence that feeds into legal matters or assist in the resolution of clarifying events that can avoid further legal action.
The Investigation Project Professional™ (IPP) certification recognises a person with investigative knowledge and expertise.
Certified personnel understand how a project management approach is applied to planning and conducting an investigation, including evidence collection and management, as well as using research methods, interviewing techniques and  report writing skills. It is designed for improving the method and rigour in investigative matters.
This is a new program being introduced in Australia before being offered globally.
An applicant is required to have completed the 5 day IILPM 'Advanced Investigation Management' course delivered by an IILPM Accredited Training Provider.
The cost of the certification application is US$147 after meeting the educational requirements.
---
More About the Investigation Project Professional (IPP) Certification

Who is the IPP Certification For?
The Investigation Project Professional or IPP is a trademark and certification of the International Institute of Legal Project Management.
It is designed for people working as investigators, and those that participate in interviewing (negotiating) or evidence gathering.

What Investigation Application Areas?
The certification is designed primarily for investigators in many different application areas, that may include specific expertise areas where investigators are employed, such as:
Police (detective);
Defence (military police);
Workplace accidents and incidents;
Public accidents and incidents;
Forensic science;
Workplace behaviour;
Cyber-crime;
Insurance fraud;
Financial fraud; and
Private investigation.

Is there a Periodic Re-certification?
There is no ongoing recertification process.
The IILPM encourages graduates to maintain their competencies with additional IILPM professional community engagement.

Is there Any Work-based Experience Required?
There is no work experience prerequisites for this certification, however prior experience in investigation is useful.

What are the Educational Prerequisites?
The educational prerequisites comprises the completion of the 5 day IILPM 'Advanced Investigation Management' course delivered by an IILPM Accredited Training Provider.
This is designed around planning and executing investigation using traditional and agile-based project approaches, investigative research,  interviewing techniques,  reporting writing and presenting as an expert witness.

Is the Assessment Difficult?
No. The assessment does require evidence of planning an executing an investigation fully. All the templates are provided, however participants are encouraged to use their own organisation's processes (or an improved process through implementing the appropriate tools provided in the training).

How do I achieve the IIP Certification?
Once completing the 5 day IILPM 'Advanced Investigation Management' course, you simply complete the IPP Application form with the required payment.

How much does the IPP application cost?
Once meeting the Educational Prerequisites, the cost of gaining the IPP certification is US$147.
To receive a hardcopy of the certification certificate, it costs an additional US$38.

Who Issues the IPP?
The International Institute of Legal Project Management issues the IPP.
The certification is issued electronically, however you can for US$38 receive it in hardcopy. The hardcopy version comes in a folder in the mail with the:
1. Notification letter from the IILPM Chairman; and
2. IPP Certification certificate with the gold IILPM seal.

How can I promote myself with the IPP Certification?
Certified IPP graduates can use the IPP post-nominal next to their name (on social media, business cards, websites, presentations, reports etc), and refer to themselves as a certified Investigation Project Professional.
Certified LPIP graduates may also use the certification logo to identify themselves.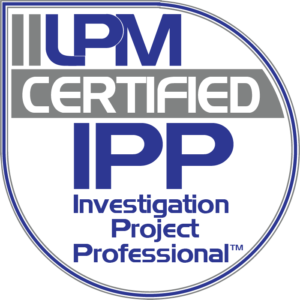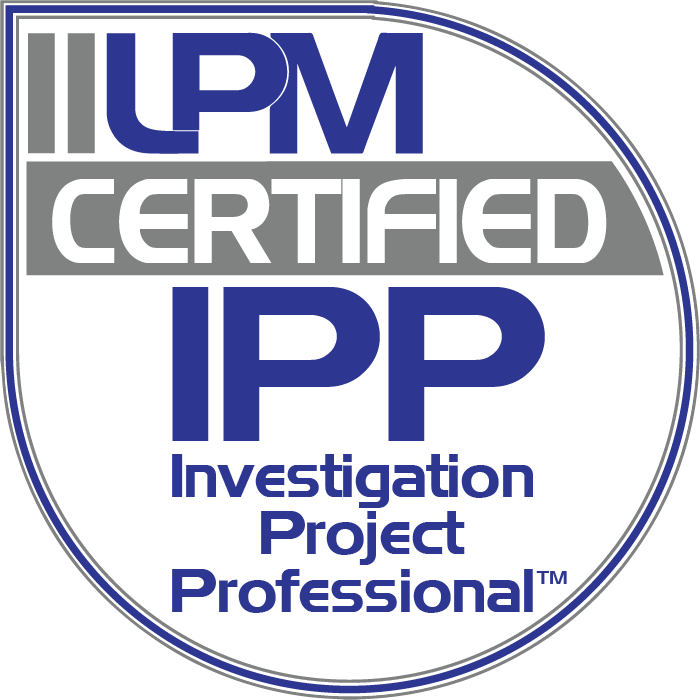 What then?
As an IPP graduate you can join our online resources and continue to get ongoing professional development through articles, podcasts, videos and templates.