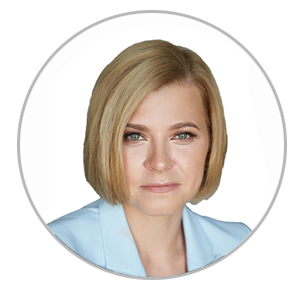 Veronika Voinovian,
LPP
Councillor, Russia
Veronika Voinovian  has over 18 years of European and Russian business experience of cross-border project implementation and team management in professional service firms. She is an experienced business operations and transformation professional with a demonstrable history of leadership in complex environments, including international law firm where she worked as Business Development Director and Chief Operating Officer for 6 years.
Veronika is a people's person interested in the human side of change with Executive MBA from Stockholm School of Economics and post-graduate level qualification in change management from Said Business School, Oxford, UK / HEC, Paris, France. She is an advocate of continuous improvement and a lean approach to all aspects of the working environment focused on identifying and implementing sustainable performance improvement.
Since 2018 Veronika has focused on delivering operations excellence, business transformation as well as legal project management training and consultancy services via her company, The AnthropoLawGist.
Veronika provides either face-to-face training through public courses or training on-site at law firms and in-house legal departments.